Medical scrubs are essential to healthcare workers. They provide protection, identification, and convenience to the medical professionals who are currently inundated with work amid the COVID-19 pandemic.
But not all scrubs are the same. Gone are the days when boring, solid-colored, V-necked uniforms potted medical facilities. Hospital workers these days can choose from several options that mix functionality, comfort, and style.
If you're a medical professional itching to update your wardrobe, we've rounded up some trending styles of medical scrubs preferred by nurses and hospital workers, and the list applies to both male and female staff.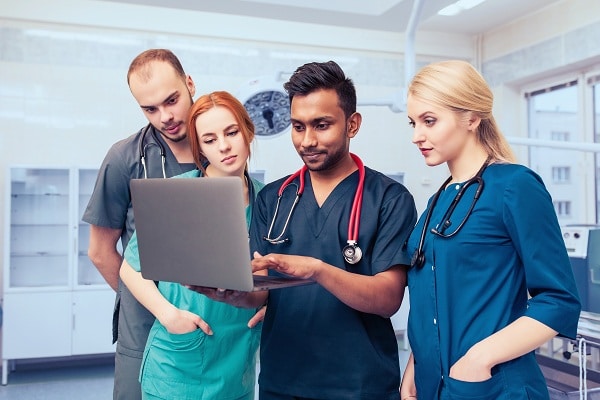 Zippered top scrubs. They don't look like your ordinary, traditional V-necked scrubs. These suits feature strategically-placed zippers to further make healthcare workers' lives more comfortable. The zippers not only lock the pockets but also provide the wearer unparalleled ease in wearing or taking off the scrubs.
Fashion-forward scrubs. Many health care workers prefer wearing medical scrubs that don't look drab. With a fresh take on the classic hospital uniform, some stylish scrubs feature form-fitting cutor floral-printed fabrics that look like you're wearing a fashionable blouse and not having a hectic day in the hospital.
Ladder lace neck scrubs. These womens scrubs feature a round neck design laden with accents on the collar and sleeves. The ladder lace neck style allows femininity to shine through as it flatters every woman's curve yet provides fluid movement at the same time.
Scrubs with modern neck cuts. V-necks are boring, so some manufacturers produce scrub tops with u-shape, scoop neck, split neck, and other neck designs.
Mock wrap top scrubs. These scrubs are stylish as they feature a drawstring tie that you can adjust for a better fit. Typicallystretchy, lightweight, and durable, these scrubs offer a high level of comfort to the wearer, especially those who are top-heavy or are pregnant.
Sporty top scrubs. Medical workers who prefer to ride a bike or motorcycle going to and from the hospital typically opt for biker scrub pants that feature a zipper at the front side. Like some mock wrap scrubs, these types are also easy to wear and remove.
Functional scrub tops. These types can be worn by both men and women, and they put functionality and comfort above everything else. Some of these styles feature extra zippers and deep pockets so hospital workers can keep track of all of their items.
Buttoned scrub tops. Some manufacturers have created scrub tops that feature buttons for added style and ease of removal.
Scrubs with or without pockets. Some health workers prefer to wear medical scrubs with side pockets to put pens and cellphones. Some, however, find it distracting. Depending on your preference, you can customize your scrub wardrobe.
Long-length scrub top. If you're bottom-heavy, choose a scrub top that runs below your derriere. Those who lack the height may opt for a scrub top that just sits right at the hips to avoid looking even shorter.
Jogger pant scrubs. Jogger-type pants have elastic bottoms, allowing for greater mobility, especially when you're up and about.
Cargo pant scrubs. This scrub pants look like your regular cargo pants in that they feature numerous side pockets to keep small and essential items.
Skinny pant scrub. Who says scrub pants should be wide legged? These pants are styled with a tapered lower leg for those who prefer their pants to sit close to the skin.
Eco-friendly scrubs. Environment-friendly medical scrubs are typically made from organic cotton from pesticides and other chemicals.
Colored scrubs. White scrubs are out, colored scrubs are in. Blue, green, and pink scrubs are often preferred by medical workers as they seem to bear a therapeutic and calming effect on patients. Although being used in some hospitals, dark-colored scrubs are slimming to the wearer but may cause visual stress to the patients.
While the majority of the medical scrubs come in a mix of polyester and cotton fabrics, some styles require the use of rayon and spandex, as well as other types of fabric for additional features such as scrubs that boast moisture-wicking, quick-drying, stain-resisting, and antimicrobial properties.
What to Look for in a Medical Scrub
No matter the color, size, style, here are a few things you need to look at when choosing a medical scrub:
Quality: Medical scrubs are made to last as they require constant washing with harsh cleaning agents. Look for scrubs with double stitches and reinforced stitching along the seams to ensure they don't get torn.
Comfort: Healthcare professionals sometimes work for 12 hours at a time, so comfort should be one of the most important considerations in buying a medical scrub. The fabric should be soft and lightweight, yet durable enough to withstand high temperatures and resist stains caused by blood and other bodily fluids.
Fit: Medical scrubs should neither be too loose nor too tight that they prevent ease of movement. While there are several stores that offer the convenience of buying medical scrubs online, you should first be aware of your body measurements before your purchase. The best option is still to buy scrubs in-store as you'll have the chance to try out to see if it fits comfortably.
Pockets: Medical workers, especially nurses, ideally should have scrubs with pockets as these are important in keeping essential medical tools such as stethoscope, gauze and alcohol pads, wipes, scissors, and a pair of gloves.
Style: Looking good may help health workers feel more comfortable in extending patient care, especially when wearing medical scrubs that mix style, comfort, and functionality.
4 Types of Medical Scrubs
1. Surgical Scrubs
As its name implies, surgical scrubs refer to the whole set of shirts, pants, and gowns worn by medical professionals just before surgery. To avoid the dangers of spreading contagious diseases, surgical scrubs are immediately disposed of by doctors and nurses after an operation. Surgical scrubs should be loose and comfortable as surgeries can take hours.
2. Nursing Scrubs
Nursing scrubs may either be for males or females. Unlike the stiff, pure white scrubs donned by nurses in the previous decades, modern-day scrubs offer a mix of mobility, comfort, functionality, and style.
3. Lab Coats
These long-sleeved white coats are typically worn by doctors over another set of medical scrubs or their business attire. This makes physicians look professional and helps set them apart from other medical workers in the hospital.
4. Veterinary Scrubs
Those working with ailing, furry patients are also entitled to be identified as such. Like nursing scrubs, they're also stain-proof, ideal for handling pet fluids. Unlike nursing scrubs, they're typically made from polyester and not cotton, as the latter is a fur magnet.
Veterinary scrubs are likewise more 'animated' than nursing scrubs, often featuring printed designs.
The Bottom Line
While style is not the first thing that comes to mind when looking for a medical scrub, it's an equally important factor to consider, being that health professionals may feel more confident in providing care to their patients.
Workplace restrictions aside, choose the style that fits your personality and fashion sense. And don't forget comfort, durability, and functionality, above all else.