What is Prednisone?
Prednisone is a prescription steroid drug which is taken orally and used for suppressing immune system and inflammation. It is also used to treat some kinds of cancer and it has some significant adverse effects. Medicine provides relief to the inflamed areas of the body and is very effective in treating many different health conditions. The medicine comes as an immediate release tablet, delayed release tablet, and liquid solutions. It is taken orally through the mouth.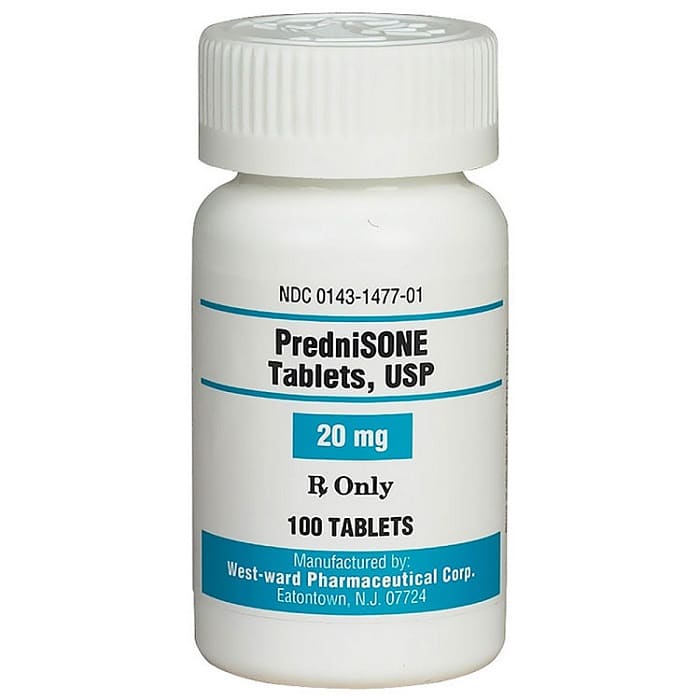 Prednisone side effects
Prednisone has many allergic reactions like difficulty in breathing, swelling of the face, lips, tongue or throat.
Some severe side effects are listed below:
Blurred vision, eye pain, or seeing halos around lights

Severe depression, feeling of extreme happiness or sadness, changes in personality or behavior, seizure

Bloody or tarry stools, coughing out blood

Swelling, rapid weight gain, feeling shortness of breath

Confusion, uneven heart rate, extreme thirst, increased urination, leg discomfort, muscle weakness

Severe pain in your upper stomach spreading to your back, nausea, and vomiting

A severe headache, buzzing sound in the ear, anxiety, confusion, unrest pain, shortness of breath

Some common side effects of Medicine:

Sleep problems

Increased appetite, gradual weight gain

Slow wound healing

A headache, dizziness, spinning sensation

Acne, increased sweating, dry skin, thinning of skin

Changes in shape or location of fat

Nausea, stomach pain, bloating
Why is Prednisone used?
Prednisone is used to treat many different health conditions. Medicine is mostly used to treat inflammation. Medicine is used to treat the following health issues.
Allergies

Anemia

Bursitis

Dermatitis

Colitis

Asthma

Lung diseases

Eye inflammation

Endocrine disorders

Eye ulcers

Lupus and nephritic syndrome

Optic neuritis

Multiple sclerosis

Arthritis

Symptoms of leukemia

Thrombocytopenia
Things to know while taking prednisone
You should know all the information about the steroid you are taking. Below are some questions which will help you to know about Medicine.
What are short term side effects of prednisone?
Nausea, sleeping problems, restlessness, sweating are common side effects of Medicine.
Why do people take prednisone?
People taking prednisone in conditions like asthma attacks, gout attacks, severe allergic reaction, and pulmonary diseases.
Medicine is taken orally after food or with milk. The medicine causes stomach upset and gastritis problems.
What kinds of food to eat while taking prednisone?
Prednisone is a steroid drug prescribed by your doctor for some specific diseases. So while you are taking Medicine you must avoid some food items and take some food items as compulsory in your diet. While on Medicine you must eat healthy and balanced diet or foods that are listed below:
Low in sodium

Rich in calcium and vitamin D

Low in calories

Low in sodium:
It is important to eat foods that are low in sodium because Medicine causes to retain extra water in the body, which causes swelling around your eyes and ankles. Too much of salt in your diet can make the swelling problems severe. Low sodium intake controls your blood pressure.
Rich in calcium and vitamin D
Taking foods that are rich in calcium can strengthen your bones and reduces the risk of bones become thin and weak. Calcium and vitamin D intake reduces bone fractures.
Prednisone makes you hungry. If you take foods that are low in calories can help you to maintain your weight and lowers the chances of weight gain.
Foods that are low in calories include:
Fresh fruits and vegetables

Low-fat dairy products

High fiber grains
Description and brand names of prednisone
Brand names:
Deltasone

Prednicot

Prednisone intensol

Rayor

Sterapred

Sterapred DS
Description of prednisone steroid drug
Prednisone provides relief for the inflamed areas of the body. It is used to treat many different kinds of health problems like allergies, asthma, lung diseases, eye inflammation and many more diseases. It works on the immune system to help relieve swelling, redness, itching and allergic reaction.
Prednisone is available only by the prescription from the doctor. Medicine is available in the following forms:
Tablet
Syrup
Solution
Tablet delayed release
How should I store and dispose of prednisone?
Medicine should be stored in the same container in which it came and the lid of the container should be tightly closed. Prednisone should be stored at room temperature and away from excess heat and moisture. Medicine should be disposed of safely and in a special way where pets, children, and other people cannot consume it.  The safest way to dispose of medicines is a medicine take-back program.  You can contact your local garbage recycling department or to a pharmacist about the take back program. In today's world of technology, you can also find the information about taking back program on the internet.
What to do if you forget the dose?
When you start taking prednisone talk to your doctor about what to do if you miss the dose. You can also talk to the pharmacist if you miss a dose. Do not take the double dose to make up for the missed up does.
Special precautions to be taken while taking prednisone
speak your doctor if you are allergic to Medicine or any other ingredient present in Medicine.
Tell your doctor about any medicines that you are taking any vitamins, nutritional supplements you are planning to take.
Tell your doctor about any herbal product you are taking or planning to take.
Do not take any vaccination without consulting your doctor.
Conclusion
Prednisone is used to cure many different diseases like asthma, allergies, and so on. Medicine is best to reduce inflammation. Medicine must be taken only after consulting your doctor. If the medicine is taken at a proper time and at proper dosage it can help you recover very quickly from any ailment. The dosage and duration of dosage may vary from each individual.