Weeknights can be incredibly hectic. After a long day of work, the last thing you want to do is spend hours in the kitchen cooking up a complicated meal. However, it's important to still eat healthy and nutritious dinners even on busy weeknights.
The good news is there are plenty of quick, easy dinner ideas that come together in 30 minutes or less. With some simple planning and prep, you can put together satisfying meals that don't require slaving over the stove. This article will provide seven easy dinner ideas for busy weeknights that are family-friendly, budget-conscious, and full of flavor.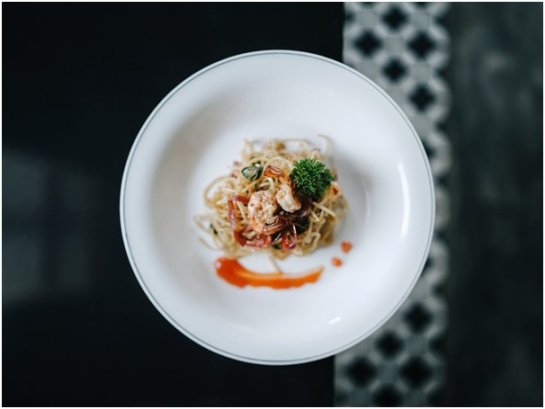 1. Sheet Pan Fajitas
Fajitas are a classic Tex-Mex dish that can be made quickly and easily using a sheet pan. To boost the flavor and nutrition, use a variety of bell peppers – try red, yellow, orange, and green. Onions are a must for fajitas – use a sweet yellow or red onion. For protein, chicken and shrimp are quick cooking options. Flank steak also cooks quickly and slices nicely for fajitas.
Toss the veggies and protein with olive oil, chili powder, cumin, garlic, oregano, and lime juice. Spread everything out in a single layer on a large-rimmed baking sheet. Roast at 400°F for 15-20 minutes, stirring halfway, until chicken is cooked through and veggies are tender. Serve the sizzling fajitas with warm corn or flour tortillas, guacamole, pico de gallo, shredded cheese, sour cream, and lime wedges.
2. Chile Verde
When you think of a hearty Mexican stew, Chile Verde immediately comes to mind. For a truly authentic taste, try this slow cooker chile verde recipe. Although it requires 8 to 9 hours overall, the hands-on preparation is only 30 minutes. You can start by roasting vegetables until charred and then transferring them to a blender along with any pan juices to make a smooth green salsa.
Cut pork shoulder and toss the cubes with flour to coat. Heat oil, and then brown the pork cubes on all sides. Transfer the browned pork to a cooker. Pour the blended salsa over the pork chicken broth, cumin, oregano, salt, and pepper. Cover and cook on low heat for 8-9 hours until the pork is very tender. Serve the tender pork chili verde over rice or cauliflower rice with desired toppings like shredded cheese, sour cream, avocado, cilantro, and lime wedges.
3. Pesto Pasta with Chicken & Veggies
For a fast one-pan pasta dinner, start by boiling water to cook the pasta. While that happens, cook diced chicken breast in a skillet along with quick-cooking veggies like halved cherry tomatoes, zucchini halves, broccoli florets, or frozen peas. Once the pasta is cooked, drain it and add it to the skillet with the chicken and veggies. Stir in a few tablespoons of basil pesto and a splash of pasta water.
Then, toss everything together so the pesto coats the pasta. Serve garnished with shredded or shaved parmesan cheese and extra torn basil leaves. The pesto adds so much bright flavor that you don't need much else. To simplify even more, use pre-cooked chicken sausage instead of raw chicken.
4. Chili Lime Salmon with Rice & Veggies
Salmon is a quick-cooking and nutrient-dense fish that makes for an easy, healthy weeknight meal. Start by patting salmon fillets dry and rubbing them with a mixture of chili powder, cumin, olive oil, lime juice, garlic, salt, and pepper. Place the seasoned salmon on a foil-lined baking sheet or pan. Broil for 8-10 minutes on high heat until the salmon slices through easily with a fork.
While the salmon broils, prepare some roasted vegetables and rice to round out the meal. Toss broccoli florets, cauliflower, or cubed butternut squash with olive oil, salt, and pepper. Roast at 400°F for 15-20 minutes until tender. Fluffy jasmine rice can be made on the stovetop or in a rice cooker. Serve the chili lime salmon over the rice and roasted veggies for a colorful, well-balanced dinner.
5. Sheet Pan Sausage and Veggies
Sheet pan dinners are a busy cook's best friend. They require minimal prep and cleanup. This sausage and veggie sheet pan meal is simple to throw together. First, slice russet potatoes into wedges. Toss the potatoes on a rimmed baking sheet with olive oil, salt, pepper, and Italian seasoning. In the same pan, add halved Brussels sprouts and sliced bell peppers. Nestle smoked sausage links like kielbasa around the veggies.
Roast the sheet pan dinner at 425°F for 20-25 minutes, stirring halfway through. The high heat helps brown and crisp the potatoes and Brussels sprouts. It also cooks the sausage thoroughly. Once done, the sausage will be sizzling and browned while the veggies become caramelized and tender. Serve this easy one-pan meal with a green salad or crusty bread on the side.
6. Thai Peanut Chicken Stir Fry
For an easy weeknight stir fry, start with a quick homemade peanut sauce. In a small bowl, whisk together peanut butter, soy sauce, lime juice, minced ginger, garlic, chili garlic sauce, and brown sugar. Pound chicken breasts thin and slice into strips for quick cooking. Heat a large skillet with oil over medium-high heat. Cook the chicken until no longer pink, which should take about 3-5 minutes.
Keep the skillet hot and add your favorite sliced veggies – try bell peppers, snap peas, broccoli, baby corn, carrots, etc. Cook, stirring frequently, until the veggies are tender-crisp. Return the chicken to the pan and add the peanut sauce. Toss everything together until coated and warmed through. Serve the Thai peanut chicken and veggies over jasmine rice. Garnish with chopped peanuts, cilantro, and lime wedges.
7. Frozen Pizza and Salad
We've all been there – it's late, you're tired, and you need dinner on the table fast. Keeping a few frozen pizzas in the freezer can be a lifesaver for these nights. Look for healthier options with thin, whole-grain crusts and lots of veggies. Bake the frozen pizza according to package directions, which usually takes 15-20 minutes at 400°F. While the pizza bakes, quickly throw together a salad. Chop up greens, tomatoes, cucumbers, carrots, etc., and toss with a simple vinaigrette.
Round out the meal by adding the fresh salad alongside the hot pizza. You can also top the pizza with extra veggies like mushrooms, peppers, or arugula after baking. While frozen pizza may seem unhealthy, adding fresh toppings and a salad makes it a more balanced meal.
Conclusion
Dinner doesn't need to be complicated, even on hectic weeknights. With some easy dinner ideas like fajitas, sheet pan meals, pasta bakes, and stir-fries, you can put together fast, filling dinners your whole family will enjoy. The key is relying on quick-cooking proteins like chicken, salmon, and sausage paired with simple veggie sides. With a little planning and prep, you can make nutritious, satisfying weeknight dinners.