Are you a nurse looking to move up in your career? Whether it's an increase in responsibility, a higher salary, or a promotion to a leadership role, you can take plenty of steps to make it happen. With the right attitude and a clear focus on your goals, you can reach new heights in your career.
This article post will explore some of the best ways for nurses to climb the ladder of success. Read on to learn more about how you can climb the ranks in your profession and make strides toward the future you envision for yourself.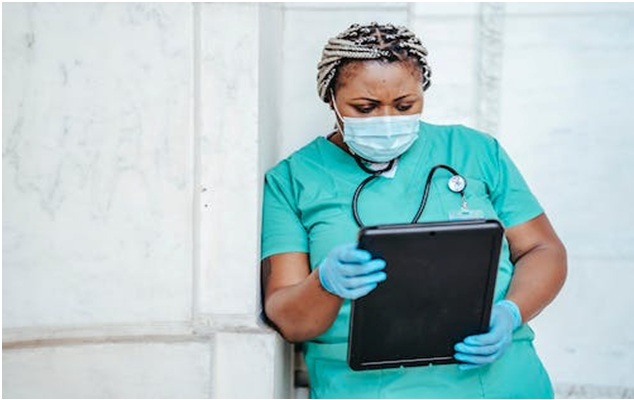 1. Go for Higher Education
Higher education can be a great way to start for nurses looking to move up the ladder of success. Many employers now demand a Master's Degree for certain positions, which is an excellent way to show dedication and commitment to the profession.
A Master's Degree will also open up more opportunities for career advancement, higher wages, and different career paths. Therefore, it is worth the effort to pursue a higher degree, as it can help you reach your professional goals.
Are you unsure about which degree to choose yet want to pursue a high-demand profession? And if you are interested in treating adults or older adults, consider taking an adult gerontology acute care degree.
A degree in adult-gerontology acute care is aimed at providing nurses the knowledge and credentials to treat adolescent, adult, and geriatric patients in critical care settings. Moreover, this profession is becoming increasingly popular, and it is predicted that by 2024, the need for adult gerontology primary care will rise by 14.3%.
Pro tip – Applying for agacnp programs will help you learn new care techniques and polish existing skills in geriatric care. Most programs are online, which allows you to manage time better and focus on work and education more effectively.
2. Become certified in your field
Becoming certified can help you demonstrate expertise and knowledge to employers, colleagues, and patients beyond basic nursing skills. Additionally, becoming certified can open up job opportunities and help increase your earning potential.
So how do you become certified? The first step is to research the various certification programs available. Different organizations offer certifications in multiple specialties, so choose one that best fits your professional goals. After researching, you'll need to meet any prerequisites for the program, such as having a certain number of hours of experience or education.
Once you've met the prerequisites, you must take an exam to become certified. This exam usually covers topics related to your specialty and may include multiple-choice and essay questions. The results from this test are typically sent directly to the certifying body, so it's essential to understand the passing requirements before taking it.
Finally, you'll receive your certification once you successfully pass the exam. This document will be evidence of your expertise and a great way to show employers what you're capable of.
3. Take on leadership roles
As a nurse, there are several ways to increase your career potential and move up the ladder of success. One of the most effective ways is to take on leadership roles. Whether becoming a team leader or taking on a higher-level position in your organization, having leadership skills can be a great asset to your resume.
Developing these leadership abilities can be done by attending conferences, taking courses, or even taking on more responsibility within your current role. Consider presenting at conferences or publishing articles about your field to build your expertise and portfolio.
Taking on a leadership role also allows you to develop team-building and communication skills, which are invaluable to success in any profession. Finally, gaining leadership experience also increases your networking opportunities, which can lead to even more advancement opportunities.
4. Serve on boards and committees
Being on a board or committee gives you access to networking opportunities, a platform to present your ideas and opinions, and a chance to be an active participant in decision-making processes. It also shows that you are willing to go above and beyond what is expected of you and are dedicated to making positive changes in the nursing profession.
Getting involved with a board or committee is a great way to gain valuable experience and build your resume. You may even have the opportunity to serve on state or national nursing boards, which can open doors to even greater opportunities.
It's a great way to gain visibility, meet influential people in the field, and make a difference in nursing. One example of this is serving on a nursing advocacy organization's board. These organizations typically lobby for increased funding for healthcare workers, changes in public policy related to public health issues, and improvements to reimbursement rates for nurses working in remote areas.
Another good option is getting involved with professional associations such as the American Nurses Association (ANA). Joining ANA lets you network with other professionals and lets them know about your skills and accomplishments, potentially opening doors for future employment opportunities outside the organization.
5. Get involved in research and stay up to date
As a nurse, you must research and stay up to date on the latest developments in your field. Research opportunities exist in hospitals, universities, and other healthcare-related settings. In addition, participating in research projects can increase your knowledge and understanding of the subject matter and help you gain valuable experience that can help you stand out from the competition regarding promotion or other career advancements.
Additionally, staying up to date on the latest developments in your nursing field can help you stay informed and better understand the ever-evolving medical landscape. Continuing education courses, attending conferences and seminars, and reading relevant journals are great ways to remain knowledgeable about the field.
This knowledge and experience can help you advance your nursing career, potentially leading to higher-level positions.
By conducting research and staying current on the most recent advances, you can position yourself as an authority in your field and demonstrate your commitment to advancing your profession. You can also use this knowledge to support evidence-based practice and improve patient care. Doing so will indeed open more doors for you down the road!
Conclusion
So, if you're looking to move up the ladder of success as a nurse, there are several things that you can do. First, focus on continuing education, networking, and advocacy opportunities, and build your experience in different areas of healthcare. Additionally, take advantage of any opportunities, and don't be afraid to put yourself out there. With dedication and hard work, you can reach any goal you set for yourself. Good luck on your journey!