A Grease-inspired rockabilly haircut has recently become in vogue again, but with a modern twist. The style incorporates an Elvis edge with buzzed fade-out sides. And while it's not the easiest haircut to style, it's certainly growing popular amongst celebrities and fashion icons, such as David Beckham and Bruno Mars, to name a few. Here's how you can style your pompadour haircut.
Must Read What You Need to Know About Hair Pomade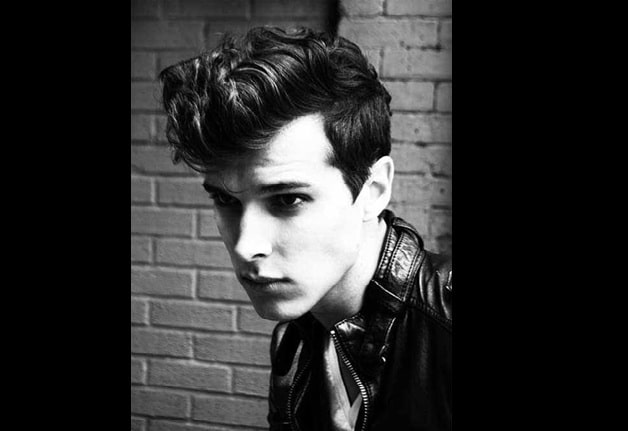 Look at Inspiration
While the pompadour is a timeless hairstyle, there's a variety that you'll need to choose from, else you may walk out of that barber shop with a look that doesn't suit you or one that doesn't align with what you had in mind. The spectrum goes from classic to modern and can be customized accordingly. If you're looking for a slicked-back style, you'll want to consider longer top length. More contemporary looks usually include buzzed sides, and otherwise long hair.
Consider Your Facial Structure
If you have a small face or a generally round one, you'll want to stay away from longer length, and opt for a shorter haircut with faded sides. This Elvis-esq look is quite an old school, and you'll want to pair it with the right clothing style. If you have a squared facial structure, you may want to opt for the parted pomp look. This usually comes with short top length with parted lines on either side of the crown area. The style can be worn high or swept to the side.
For heart shaped faces, the swoop pompadour can be combed back, or have a layered fringe. This is more of a daring haircut and maybe a little high maintenance. The sides can fade out, which contrasts the thick layer of hair on top. This is not recommended for anyone with thin hair but works great with curly strands. If you want to cut off as little hair as possible, the pompadour Mohawk will give you that Edward Cullen look. The sides are only trimmed, leaving the top length long enough for a strand to slide across your forehead. This works with straight and slightly wavy hair best.
Styling the Length
Opt for lightweight hair products, as thick gels will weigh down your hair, and make your scalp visible. People with thin hair may skip the conditioner, and only scrunch a pea sized amount of styling cream on the tips. For a combed-back look, add more conditioner, but never opt for gel, which can damage your strands. If you're unsure what styles work best for thin hair, review this list to get an idea of what pomp variety suits the texture of your hair, and what hair products to use.  If your scalp is visible through your strands, apply a thickening protein mask once a month, or create your own using an equal mixture of egg and honey once a week. This will give your hair more fluff, and make it easier to style your mane with hair products.
Find the Right Stylist
As tempting as it might be to get this haircut done at the comfort of your home, you'll likely regret it afterward, especially if you're not familiar with cutting your own hair. While the top length may be easiest to cut style, your sides need to be buzzed by a professional who can even out your look. You don't want to end up buzzing all of your hair off after a failed attempt!
Facial Hair
You'll want to consider how much facial hair you'll grow after you get this haircut. Because this style works best with chiseled facial structures, you can shape your face with a trimmed beard. Beards are practically makeup for men; they can drastically alter the shape of your face, and make your jawline look more chiseled. Make sure to look for inspiration on both facial hairs as well as the kind of pomp you're looking for, and consult your stylist on whether it will suit you.
Generally speaking, the pompadour look works better on trimmed facial hair and long beards. A naked face may only suit your look if you have a chiseled squared face. Rounder faces will benefit from faded out beards that complement buzzed sides.
While a rockabilly haircut may seem a little outlandish, today's modern twist makes it one of the sleekest and most popular haircuts for men this year. The defined dimensions, along with the long strands at the top, gives you a contemporary appearance that brings out chiseled facial structures. To style, this hipster haircut right, make sure to show your stylist a photo from all angles and add your own twist to it if you wish. A longer fringe suits bigger foreheads, while a slicked-back look goes great with heart shaped and square faces.