Your quest for a job in healthcare doesn't have to include medical school. With the right preparation, you could enjoy a comfortable career as a healthcare administrator or a medical and health services manager. Although you won't be working directly with patients, your work will have an influence on the type and quality of care those patients receive. How do you get into one of these career paths?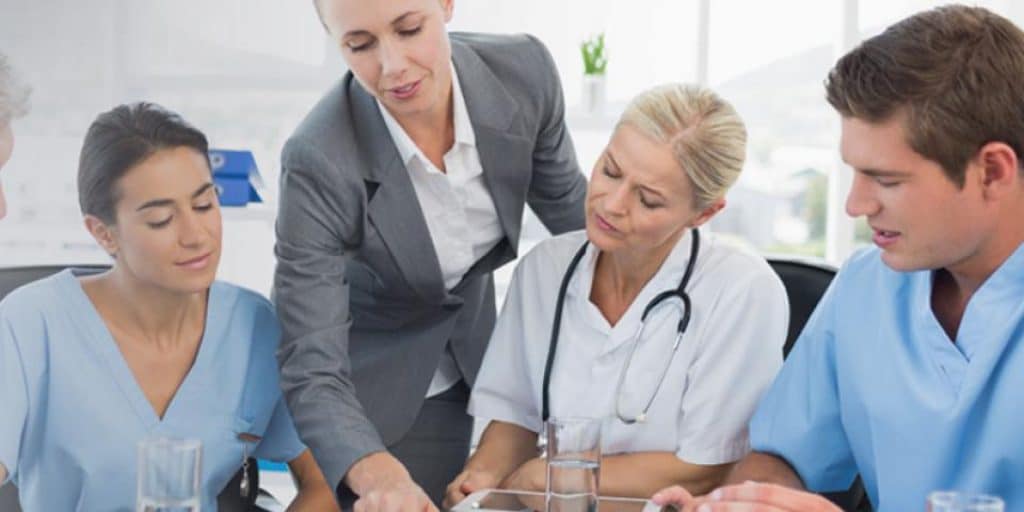 The Employment Outlook for Healthcare Management and Administration
Today, according to the U.S. Bureau of Labor Statistics, the outlook for healthcare administrators is great. Based on the number of Baby Boomers entering retirement age and the related increase in healthcare concerns, the expected demand for healthcare administrators is strong. Medical and health services managers have a job outlook growth of 32 percent which is much faster than average. The median annual salaries for healthcare administrators and medical and health services managers generally fall between 98,000 and $176,000 (based on numbers from 2019.)
The Educational Requirements
Naturally, you will need a bachelor's degree, at the very least. If you want to pursue executive career options, you'll need to complete a more advanced degree. You should expect to complete coursework in math, communications, office management, healthcare marketing, and similar subjects. Plan to spend time studying office and personnel management, in addition to healthcare topics such as anatomy and physiology. Most experts in this field, recommend considering any relevant advanced degree option; start by looking for public health administration or health care administration degree tracks. If you start with the goal to complete a master's degree, you'll be a step ahead of your competition.
The Anticipated Duties
Professionals in this field offer carry many responsibilities, including developing or improving organizational structures of medical institutions, putting together policies, and helping to plan and coordinate health services. Managers often find jobs in hospitals, health insurance companies, care centers, rehabilitation centers, and public health departments.
The Right Type of Experience
One important tip for qualifying for positions in a variety of settings is to start working in a healthcare office as soon as possible. You could start as an assistant in the financial department of a local doctor's office, or you could accept internships when they come up – even if they don't initially pay as well as you'd hope. Your career profile could include positions such as medical executive assistant, health informatics officer, or social and community service manager. Ultimately, positions that offer you experience in finance, human resources, marketing, and public affairs, nursing administration, or planning and development could all put you on the right track.
Proof of Your Qualifications
Employers are often looking for candidates who have experience and evidence of progressive work responsibilities. (This means that past employers have given you new positions with increasing responsibility.) Effective resume writing is quite important. Make sure your resume offers evidence of your ability to manage people and a budget. Include examples of how you've improved efficiency in your workplace or how you've helped medical professionals by developing efficient work schedules.
The End Goal
Working your way to a comfortable career in healthcare administration and management requires both education and experience. When you know where you want your career path to take you, it's easier to keep sight of this end goal.