Some people think that drinking coffee, in general, is bad for their health. Yet extensive research has proved that as long as you stick to the right amount of caffeine every day, it won't be harmful to your health. The fact of the matter is, drinking a reasonable number of coffee cups is great for your health; coffee reduces the risk of getting diabetes, enhances your mood, promotes brain health, and makes your workout sessions more rewarding. You might be wondering about the health benefits that cold-brewed coffee in particular offers and how it differs from regular coffee.
Right here, we have gathered some of the differences in the health benefits that iced coffee provides.
Iced Coffee Helps Prevent Heart Attacks
Coffee contains antioxidants that promote body and heart health. However, cold brew coffee might lower your risk of getting heart attacks due to their various benefits. They contain caffeine, magnesium, trigonelline, and phenolic compounds. These compounds, found in cold-brewed coffee, have proven to lower blood pressure and stabilize it while increasing insulin sensitivity. Other than these health benefits, one study has found that drinking a cup of iced coffee a week might reduce chances of getting a heart attack by 7%.
Must Read 7 Surprising Health Benefits of Unroasted Coffee Beans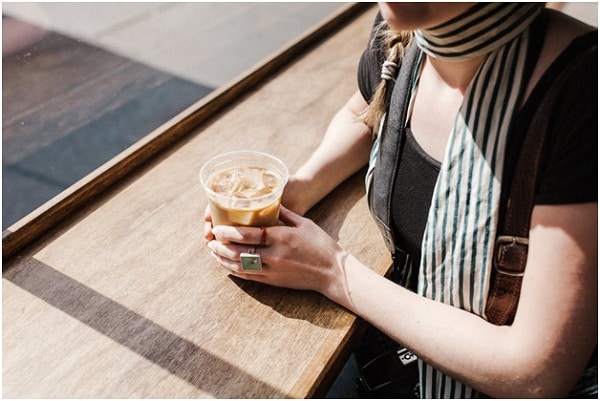 They Have a Lower Percentage of Caffeine
Regardless of your coffee's temperature, the percentage of caffeine varies based on the way the barista is brewing and grinding your coffee. In general, this might differ from one place to another. However, you can control the amount of caffeine in your coffee by personally grinding and brewing your own coffee at home. While this might seem like a hassle for many busy people out there, you will find that with practice, making your own cup of coffee will be better in terms of flavor and from a health standpoint as well. If you are not sure where to start, you can find information on this website that will walk you through the whole process of choosing the right beans and the right methods of grinding them. Controlling the amount of caffeine by making your own coffee is especially vital for people who drink more than 3 cups a day.
Cold Brew Coffee Boosts The Metabolism
Athletes know this trick of drinking coffee or consuming pre-workout caffeine supplements to make the most out of their workouts. Metabolism is a natural body process that burns food and calories for energy. Increased metabolism means faster weight loss rate, higher levels of energy, and better working out results. A cup of hot coffee or caffeinated iced coffee might lead to an increase in the metabolic rate that might reach up to 11%. One study showed that 8 men found that caffeine has increased their fat burning process by 2%, while causing a high increase in calorie burning by 13%, compared to others who only took a placebo and beta-blockers. Higher metabolic rate means that you will be able to lose weight and burn calories while you are resting which is beneficial for many people who are trying to lead a healthier lifestyle.
Coffee Promotes Mental Health
Studies have proven that people who regularly drink coffee have lower rates of depression. This study had more than 300,000 participants; those who consumed caffeine were found to be at a lower risk of getting depression than those who drank decaffeinated coffee. This study also proved that every cup of coffee can lower the risk of getting depression by 8%. Other than this, coffee is beneficial for your overall mental health as it boosts your mood and stabilizes mood swings. Other studies that focused on the mood and brain functions found that drinking, on average, two cups of coffee per day may improve alertness and other brain functions. This study was able to prove the increase in alertness and focus by observing the people's different reactions to objects that are moving towards them.
Iced coffee Is Easier On The Stomach Compared To Hot coffee
Regardless of how many times people read about the importance of having breakfast, many of us still can't endure any food before having their coffee. Since coffee is an acidic beverage, it triggers acid reflux and many stomach problems if consumed on an empty stomach. While any doctor would advise against drinking coffee, regardless of its temperature on an empty stomach, cold brews have proven to be gentler and better if you have any.
Choosing between a hot cup of coffee and a cold one shouldn't be based on your mood or the weather outside. The good news for many cold-brewed coffee addicts that while hot coffee may have more antioxidants, cold brews offer a variety of significant advantages. Cold-brewed coffee may boost your mood, reduce the risk of depression and heart attacks, and increases your metabolism which helps you in leading a healthier better life.